'Cool Claus' & 'My Santa Selfies'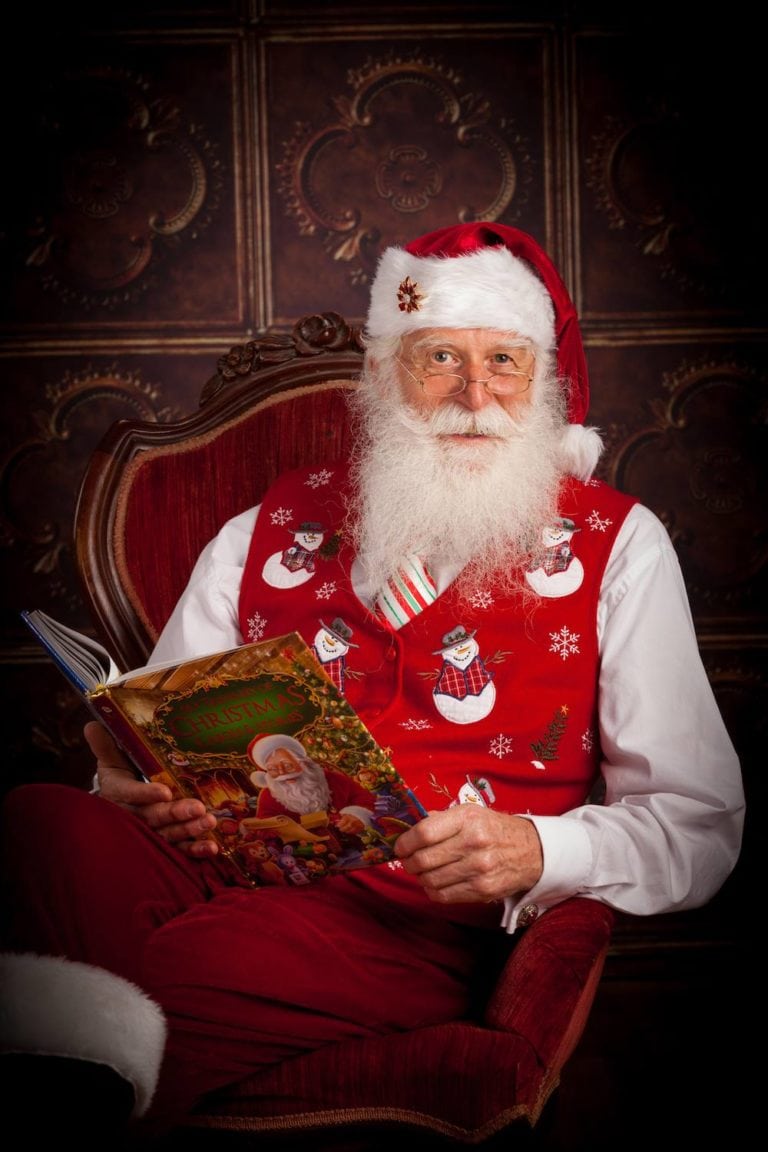 Santa Mike's speciality is getting that "First Picture with Santa." Just recently in Gatlinburg, TN, I had a boy, about four years old, who would barely make eye contact with me. Before it was all over, I had him helping me take a picture of his mother in the sleigh. The last picture taken was with him in my lap, in the sleigh, with all his brothers and sisters. If I have enough time, I can almost always get that special "First Picture."
I have a number of good Christmas books to read. I can play guitar and sing if requested. I have a good sense of humor, which adds to the fun and joy for children from one to a hundred and one!
I am a real bearded Santa with a customized Santa Suit.  Santa Mike has been Virtus trained, and when I am not making toys or supervising elves, I help out at church and school keeping everything running smooth. Santa Mike has a lifetime of experience being around kids. Let Santa Mike bring joy to your "Special Holiday Event."  Remember, Christmas comes, but once a year!
Let me just state briefly that I have appeared at numerous events including:  "Zoo Lights,"  "Starry Nights,"  "Life Blood" Donation Drive, "Toys for Tots," held at "Ben and Jerry's."  Collierville Animal Shelter's Pet Photos, held at "Tractor Supply Company," along with Memphis Animal Shelter's Pet Photos.  I enjoyed a meal or two with Memphis Youth Ministries "Breakfast with Santa," and made wishes come true at "Tax Pro's" toy give away.  There were "Santa Selfies," taken at "Muddy's Bakery," and  "Hollywood Feed."  I took my sleigh over to "Nanthahala Outdoor Center" in Gatlinburg, Tennessee a few times.  
I hosted the grand opening of the "Old Libertyland Grand Carousel," now located at the "Children's Museum of Memphis."  A trip to the "Enchanted Forest," at the Pink Place, always brings a smile to my face.  I have read some wonderful Christmas stories at "Novel Bookstore."  I made an appearance at the University of Memphis Tigers basketball game, held at the Fed Ex Forum, as well as an appearance with the Lady Tigers.  I slid down the chimney at the Memphis Pyramid for Bass Pro, and visited at Overton Square to see the little kiddies.  I had a blast at the Jingle Bell Ball held at the Peabody Hotel.  I love to make visits to the Baptist Children's Hospital when they throw their Christmas party.  I enjoy smelling the flowers at the Botanical Gardens whenever I am there.  Fitzgerald's Casino ask me visit at the employee's family Christmas Party.  I have made numerous "Home and Hospital Visits," just to name a few of my adventures.
I am a member of the Red Suit Society, "Mid Southern Santa Society," and the "International Brotherhood of Real Bearded Santas." (IBRBS)  Santa Mike has been background checked and carries insurance.  I have a degree in "Santa Clausology" from the International University of Santa Claus, run by National Santa, Tim Connaghan.  I also have graduated from the second oldest Santa school in America.  The Professional Santa Clause School, taught by celebrated mentor, Susan Mesco.  I also have a Diploma from "The Brother's Claus" School, taught by Steve Gillham and Leon McBryde, both of whom were recently inducted into the Santa Claus Hall of Fame.  I have a background in photography, so I know just what it takes to get that "Special Picture." 
I have a good sense of humor, which adds to the fun and joy for children from one to a hundred and one!  I have attended Santa classes at the "Discover Santa" ten year reunion, in Branson, Missouri where almost a thousand Santas appeared.  I also attended classes at the IBRBS Denver convention.  There is not much that I have not done as Santa.  Why I have even watched "It's a Wonderful Life" with "Zu Zu."
I've always loved being around kids. I was even one, once myself. I have coached different sports teams through the years.  When I was a teenager, I used to get balloons off the ceiling at the mall, and give them to little kids, just to see the joy in their eyes.  I have often entertained "thoughts" of Santa.
When I do something; I do my best to do it right. That is why I am a member of the "Mid Southern Santa Society" and the "Red Suit Society."  I am a real bearded Santa, and a member of the "International Brotherhood of Real Bearded Santas." (IBRBS) I am insured, and background checked. I have a customized Santa Suit, and just recently obtained an "Old World Suit."
My belt buckle is inscribed with the latin phrase "Lumen Christi" which translates to "Light of Christ." We should all be reflections of the "Light of Christ," and who better to reflect this than Saint Nicholas.  After all,  "Jesus is the reason for the Season."
I have made it a practice to give 20% to charity every year, so give me a try, and you will be helping others also!  Santa Mike's motto is "Have Sleigh Will Travel," and is willing to go wherever "His Spirit" leads him.  Let Santa "Cool Claus" Mike bring joy to your special Holiday event.  Remember, Christmas comes, but once a year!
Seriously the best experience ever! We planned a little private Santa meet and greet + photo session for some friends and our kids, and Santa Mike was beyond thorough in helping us plan based on the kids ages, how much time we had, etc. We talked on the phone before the event and planned photos, what we'd do during the time, and more. I was impressed with that to start with, but the experience was even better! Santa Mike is tall with a real beard and is boisterous with a few ho ho ho's, but otherwise very gentle and approachable for the kids. He was so creative in ways to get the kids to warm up to him, and in the end, ALL the kids, a lot of who at first didn't want anything to do with him, were sitting with him! He played cars and trucks with the little kids, read The Night Before Christmas, and he even planned some "reindeer games" and picked up reindeer antlers for all the kids on the way over. All of the kids had a total blast, and we'll be doing this every year! He even stayed late and worked with me to get these beautiful darker shots (with the light coming off the book), which I will treasure forever and likely print on a giant canvas! We tried to tip him and he wouldn't even let us - he said that us having great photos was all he wanted. We are just still so happy about how the event went - I don't think it could have gone any better at all. Santa himself is a photographer, so he knows just how to pose and when to get those perfect shots, and I was so impressed at how patient he was with me in getting specific looks (I'm a food photographer, so studio lighting is not my thing!). Thank you SO much to Santa Mike (Santa Selfies!), and we'll see you again next year!
It was December of 2015, and I was the fundraising officer for the University of Memphis Catholic Student Organization. Our biggest fundraiser of the year, Breakfast with Santa at St. Peter's church, was coming up, and I was doing my best to stay focused. I had been consistently checking on all different aspects of the event, because I knew how important it was. The amount of money we raised directly affected how much we would have to pay out of pocket for our spring break mission trip, which in its own way determined who could or couldn't go. Breakfast with Santa was just two weeks away, and everything seemed to be running smoothly. But then, after months of pitches straight down the line, a curveball was thrown my way. Our Santa Clause dropped out, and I didn't know what to do. Then I remembered I knew another Santa, Santa Mike. After just one phone call, he graciously agreed to help us out. The big day came, and we waited anxiously in anticipation. Now, I knew Santa Mike would be good. But I didn't know just how good he would be. When he burst through the doors and cried "HO! HO! HO!," the crowd erupted in cheers. There was something about Santa Mike's approach to portraying Kris Kringle that separated him from the rest. I've seen a lot of santas in my day, but none with the same zest for life and enthusiasm he showed. This wasn't just another gig for him. He genuinely cared about each and every child. The kids were brought great joy that day, and I know they will remember Santa Mike for a long time. The event turned out to be a smashing success, and we raised the amount of money we needed. I suspect we have Santa Mike to thank for that. And his work for us wasn't finished. He returned as our Santa this past year, and he again knocked it out of the park. It's said that Santa Clause isn't real, but his spirit certainly lives within Santa Mike, and the hearts and lives of every child he touches.
The Perfect Santa Selfies with Santa Mike was the perfect compliment to a holiday party. He was engaging, energetic, professional and very sweet. And he even brought his own throne! I can't imagine the party without him. He made the night!
Please contact me regarding scheduling and availability by filling the contact me form.